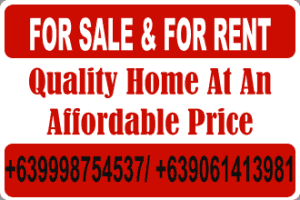 This website of CDO HOME BUILDERS  & DEVELOPMENT CORP also provides clientele in diverging social stands or  enthusiasts, numbers of condominium units, house and lot packages in every subdivision for every developer and all kinds of real estate developments around the city of Cagayan de Oro. Having each theme inspired from various concepts locally and even internationally,  lots or plots in different cuts or according to your needs or demand and a lot more of property options that would suit you economically,socially, physically and architecturally.
As the city is getting booming with its infrastructures, and businesses and of being a great hub in the area, its real estate as well is in vast needs for all of us. Thus, even many of those property owners are making their properties into investment. And for us, as a help to assist you with that, we also cater re-sale properties posted in this website. Even with these properties and transactions, we still can assist you all the way. This would be from the house/property hunting to paper processing.
Or if you have your for sale properties you want us to advertise or deal to our online viewers and client locally and internationally, we can also assist you with that. Just contact us for you to be guided and to look for your right buyer.
We are under a license broker with license real estates marketing officers, who will assist you professionally from answering your query, matching the property to your suitability, site or unit viewing for free assistance and on your convenience, assist you with the financing process to book the unit or property of your want, and the most- the AFTER SALES SERVICE, which really count for all of our clients' total service.
Are you having a hard time looking for your ready and conceptualized dreamed house or property? Just contact us for more assistance and to make your house-hunting easier!
(Whatever properties posted under this OTHER REAL ESTATE SERVICES, are not owned, nor build or developed by CDO HOME BUILDERS & DEVELOPMENT CORP.)
For more inquiries, more details, free site viewing and bookings you may contact us CDO HOME BUILDERS at www.cdohomebuilders.com through +63-927-545-1491 (Globe) or +63-999-875-4537      (Smart) or +63-88-583-0005 (PLDT/Philcom) and LIKE US ON our Facebook Fan Page CAGAYAN DE ORO HOMES or you may email us at [email protected].