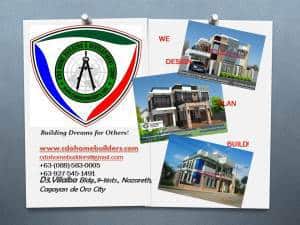 POINTS TO REMEMBER: DREAM HOUSE

CDO HOME BUILDERS & DEVELOPMENT CORP/CAGAYAN DE ORO HOME BUILDERS will help you build your dreams.
Having a dilemma of where and which house to acquire for your family? Or having  misty ways to decide of whom to talk regarding your family's house dream to be realized? Well, we in, CDO HOME BUILDERS & DEVELOPMENT CORP./CAGAYAN DE ORO HOME BUILDERS, are proud to extend our assistance to make it happen for you family! Because our services are framed by you, and are really for you!
A house is really vital sign of where our home characteristics  must be molded. This is everyone's dream to have either for the family or for an investment; whatever it may serve or purpose. But it is not easy to have some, especially if we don't know how to start and where and what to do first, Thus, Cagayan de Oro Home builders have this website www.cdohomebuilders.com and CDO HOME Builders & Dev't Corp for you to be helped with!
This could be a help for you to guided in deciding to acquiring a house; would it be through buying a newly built house, or house and lot sale under a developer, or general house construction package through us, or by other cdo builders:
Contact Cagayan de Oro Home Builders through email: [email protected], or call or message us through these numbers +63-927-545-1491 (globe) / 088-583-0005
Extend to us your house designs or concept and ideas to have such as; how many square meters for the lot and the floor size, how many bedrooms and toilet & baths you want your house would have and the architectural designs for the interior as well as the architectural works which we have to incorporate with its  facade.
Also, inform us of which financing scheme you want to finance your house to be.Here in Cagayan de Oro City,we have financing institution where we can apply for loan such as; bank, Pag-Ibig Funds and In-house or deferred financing (if it is under a developer.
After deciding of which financing institution you would use, prepare the following requirements in applying a housing or house construction loan. Here are:
a. Updated Job Contract
b.Passport copy (if working or base abroad)
c. Valid Identification
d. 6 months latest payslips 
e.Special power of Attorney (SPA) if base abroad
f. And of course, must be a Filipino citizen or married with a Filipino citizen
Those are the major requirements needed to have your general house construction or house and lot purchase.  Good thing here is that, we will assist you with all the leg works in applying the loan to make it a hassle free on your part and for you also to be guided. As for everybody's knowledge, here in Cagayan de Oro City, there are banks who are in competition to have loaners and that are giving opportunity to us, as one of the Cagayan de Oro home builders, to be affiliated.Thus, we are technically allowed to transact with them,in your behalf and to make it faster and easier on your our clients' parts.
For more inquiries, more details, free site viewing and bookings you may contact us CDO HOME BUILDERS & DEVELOPMENT CORP/Cagayan de Oro Home Builders at www.cdohomebuilders.com through +63-927-545-1491(Globe) or +63-999-875-4537 (Smart) or +63-88-583-0005 (PLDT/Philcom) and LIKE US ON our Facebook Fan Page CAGAYAN DE ORO HOMES or you may email us at [email protected].