CDO HOME BUILDERS' PROPOSED HOUSE CONSTRUCTION PACKAGE
Its has been a while that we haven't given you another pretty news for all of you  to follow. But the long wait is over because CDO HOME BUILDERS & DEVELOPMENT CORP is now having this great news for you all to partake with! The entire team will be extending its services not only here in the city of Cagayan de Oro, but also on the neighboring area like Bukidnon! Yes! We really do!
As part of the second quarter of this year, we will be having this proposed house construction project in Bukidnon. We are already done with the designing accordingly, and we are fully ready to have this project to be started soon! And surely, all of you will be our witnesses too in making this proposed house design to be the realized dream home to be! We are proud to share this design for all of you too! Have a look on the picture below: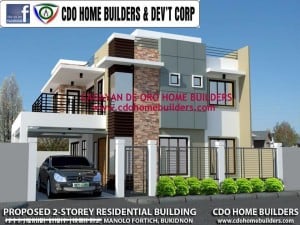 This house would be having the following amenities: 5 bed rooms,5 toilet & baths, receiving,entertainment, dining,kitchen and garage areas on the ground floor; family area, terrace on the second floor and the roof deck on the third level.
This project is amazingly designed by the request of the owner for their dream home to be. With all the effort and prayer to have this done, now it really is ready to be built.  Please follow and witness as we develop this project to its full completion. We will be happy to have this project to be done, for all of you to be inspired as well, to dream and believe that; making and reaching your dream homes is not difficult and impossible to do! Because we always believe that everything is reachable if willingness and prayers are  tact-in!
From us in CDO HOME BUILDERS & DEVELOPMENT CORP., stay optimistic and never stop believing to make your dream homes to come true! It will be, when you stay a good believer and persevere; also, we can be of help to assist you to get there, so just contact us!
For more inquiries, more details, free site viewing and bookings you may contact us CDO HOME BUILDERS at www.cdohomebuilders.com through +63-(088)-583-0005 (PLDT) or +63-927-545-1491(Globe) or +63-999-875-4537 (Smart) and LIKE US ON our Facebook Fan Page CDO HOME BUILDERS & DEVELOPMENT CORP. or you may email us at cdohomebuilders@gmail.com.