Cagayan de Oro construction Basic Specification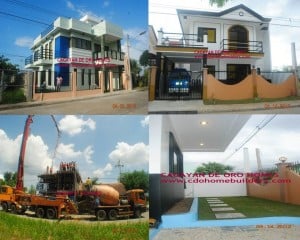 In house construction package service, we have considered such specification.This will surely be discussed with our clients, before we do the implementation. For Cagayan de Oro  construction basic specification, we have the following:
For the Roofing we use pre-painted rib-tile roofing and  1.2 mm c-purlins.
For Ceiling Framing we use single and double furring,metal spundrill or hardiflex ceiling eaves
Roof has heat insulator
Ceiling uses hardiflex board with drop ceiling designs
For the lighting we have pin lights with 2 circular center lights in the package and all energy saver lights.
 With built-in room and kitchen cabinets
 Our flooring in  receiving,dining,hallways,bed rooms and living areas, we use 60×60 granite tiles.
For outdoor we use 40×40  rustic ceramic tiles.
For toilet and baths wall & floor  we use 20×30 and 20×20 ceramic tiles.
Complete T&B and Lavatory sets with toilet bowls, showers set and mirrors
For kitchen top we use granite slab or 60×60 granite tiles.
With basic landscaping, fencing,permit processing for electric and water application assistance.
With full assistance for your financing scheme either bank or Pag-Ibig.
Master's Bedroom  has its own toilet & bath with specialized closet.
Wit cable and internet provisions.
Also Bar or nook is considered (modern/ Mediterranean).
Clients can customize the paint colors for the interior ( using davies paints)and the exterior (weather guard boysen paints);or  base on the discussed total house construction contract price. They can also customize the bed rooms with flooring tiles on their like, base on the contract price and discussed specification.Our house construction package price  is P 23,000 per floor square meter usable area, but we can also build according to your considered budget and dealt with specification the company and the client would have.
Down payment would be 15% or 20% and 80 % or 70% balance is loanable either through bank or  Pag-Ibig. We can construct according to your house budget. We have this flexible design, materials, plans and everything for the house to be built. This would be our standard house construction packaging, but still clients can add or alter any of this specification according to their needs.
For more inquiries, more details, free site viewing and bookings you may contact us CDO HOME BUILDERS  & DEVELOPMENT CORP at www.cdohomebuilders.com through +63-88-583-0005 (PLDT/Philcom) or +63-927-545-1491 (Globe) or +63-999-875-4537 (Smart) and LIKE US ON our Facebook Fan Page CAGAYAN DE ORO HOMES or you may email us at [email protected].