Cagayan de Oro Construction Philippines  
 Cagayan de Oro Construction Philippines improvements for project SPS. Tommy & Cherryl-Ann Lawas, is also on this level of making its aura colorful through the painting works. In architectural world, making a construction piece to its grandeur aura is really a great challenge. As for now, we have painted the bed rooms with each designated color options; also the family, living and kitchen areas were painted. The varied and accented tiles for each toilet & baths were installed and even the ceiling and exteriors colors were ready.
For the detailed photos, we have the following:
The light works, stone works and the ceiling drops were already finish. The total masonry works are done and we are on the phase of finishing the final coating for all the painting colors works, in and out of the house construction.
We are vigorously on this project, because we want the family could live here with full satisfaction and ease ,this newly built house. Soon to be this will be coming true for us, and for all of our workers and colleagues.We will be updating you more of this project, especially its turn-over period along with the family of the owner.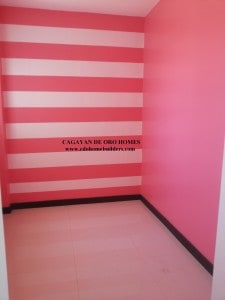 In all of these works and accomplishments, Cagayan de Oro Construction Philippines,would like to give thanks to our Almighty for making this project to be almost done and to be realized! Thank you for making us all well totally with our workers to make the building durably and colorfully done!
" As they say, paintings are really a detour of bringing life to an architectural works. It really is!"
Really, painters are really a big deal and part of all construction work; may it be house or commercial construction- it would always be the painters an the paint colors do matter most!  Thanks to our painters and for our clients' ideas to make this project have colorful meaning and value as a whole!
For more inquiries, more details, free site viewing and bookings you may contact us CDO HOME BUILDERS & DEVELOPMENT CORP at www.cdohomebuilders.com through +63-88-583-0005 (PLDT/Philcom) or +63-927-545-1491 (Globe) or +63-999-875-4537 (Smart) and LIKE US ON our Facebook Fan Page CAGAYAN DE ORO HOMES or you may email us at [email protected].