Work is really the basic  thing for us to do in everyday! Without it, it seems, life is meaningless (in my opinion) and baseless. Thus, many of us wanted and longin to have one for a living. In line with this thought, we have this opportunity for everyone. Yes, for everyone! regardless of your educational attainment is, we will accept applicants in line with construction, first aider,safety officers and accounting field. As for the requirements, we have the following:
Construction workers (masons or laborers)
POLICE CLEARANCE/ NBI
BIRTH CERTIFICATE AND MARRIAGE CONTRACT ( for married)
RESUME/ BIODATA
First Aide/ safety officer:
RED CROSS CERTIFICATION/S
RED CROSS IDENTIFATION (I.D.)
RESUME
So, for those who are looking for a work out there, you can always visit us at our office for more information. We in Cdo Home Builders & Dev't Corp.,is open from Monday 9 a.m. to 7 p.m. at D3, Villalba Blgd., 9-16 Sts., Nazareth, Cdo. 
We want to share with you this opportunity, not only because of your selves, but also for your family as well. It would be a great feeling to have this season of Christmas having a good earning job for you and for your family. That's why we grab this for all of you out there! Photos below is showing few of those people and workers whom we worked with and still working with on site.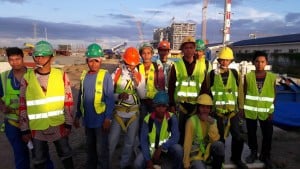 You may be one of our additional people to be, too! We are still accepting applicants for the mentioned vacancies!
CDO HOME BUILDERS & DEVELOPMENT CORP offers the following services: a.) General Construction; b.) Interior designs; c.) Architectural designs; d.) Accepts renovation, remodeling; e.) choose your own design; f.) free consultation and g.) flexible financing scheme.
For more inquiries, more details, free site viewing and bookings you may contact us CDO HOME BUILDERS & DEVELOPMENT CORP at www.cdohomebuilders.com through +63-(088)-583-0005 (PLDT) or +63-(088)-880-7412 (telefax) or +63-927-545-1491 (Globe) or             +63-999-875-4537       (Smart) and LIKE US ON our Facebook Fan Page CDO HOME BUILDERS & DEVELOPMENT CORP. or you may email us at [email protected].