There will be a hundred and one ideas for many space improvement projects as the 20th Philippine Building and Construction Exposition (WORLDBEX), which opened in March 11 to 15, 2015.
The trade show will cover a total exhibi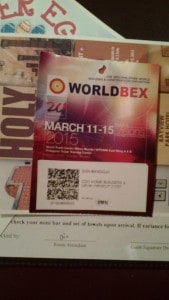 tion area of 30,000sqm at the combined venues of World Trade Center Metro Manila (WTCMM) East Wing A & B, and the Philippine Trade Training Center.
With the theme of "Building Visions in the Realm of ASEAN Integration," this year WORLDBEX will be all about showcasing what the ASEAN region has to offer. Visitors and business enthusiast  who are looking to find anything from inspiration and advice to actual products and services, will have their needs and wants met at the five day expo.
As WORLDBEX celebrates its 20th year, a bigger and bolder installment can be expected. There are  some 500 participating companies and close 200 booths of  international representatives including Australia, Singapore, the US, Vietnam, Korea, Malaysia, China, Germany, Brunei, Italy, Switzerland, Germany, Australia and Spain. This year's expo will be the biggest one stop shop for design and construction enthusiasts who are seeking to discover new products and services in the global market.
Several pocket events and activities will be held
CDO HOME BUILDERS & DEVELOPMENT CORP is ready to help all its clients to address the financing needs in building their dream homes, may it be in the purchase of lot, construction of house or mixed residential buildings, commercial buildings, purchase of house and lot, renovations, home improvements through its business partnered bank which will be able to accommodate 80% to 90% of the total project cost and is subject to bank approval.
CDO HOME BUILDERS & DEVELOPMENT CORP offers the following services: a.) General Construction; b.) Interior designs; c.) Architectural designs; d.) Accepts renovation, remodeling; e.) choose your own design; f.) free consultation and g.) flexible financing scheme.
For more inquiries, more details, free site viewing and bookings you may contact us CDO HOME BUILDERS & DEVELOPMENT CORP at www.cdohomebuilders.com through +63-(088)-583-0005 (PLDT) or +63-(088)-880-7412 (telefax) or +63-927-545-1491 (Globe) or             +63-999-875-4537       (Smart) and LIKE US ON our Facebook Fan Page CDO HOME BUILDERS & DEVELOPMENT CORP. or you may email us at [email protected].